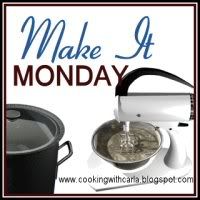 Click HERE to read about "Make It Monday", and get the code.

~~~~~~~~~~~~
The theme this week is SNACKS.

My friend Deana introduced this yummy dip to me :-)

Apple Dip

1 large package cream cheese
1/2 cup brown sugar

Cream together and spread on serving plate.

Drizzle caramel sauce over the top. Crush 3 SKOR bars and sprinkle on top.

Slice Granny Smith apples, and dip!



~~~~~~~~~~~~~

Post your recipe on your blog and play along with us :-) Add your link using MckLinky, and I'll drop by for a visit.