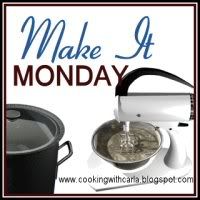 This week's theme is MEAT DISHES.



Sweet and Sour Meatballs

meatballs:

1 lb ground beef
1/2 rolled oats
salt/pepper
onion powder

Mix all ingredients and then roll into 1" balls. Place on wire rack, on a cookie sheet and place in 350 deg. oven. Cook for 20 minutes or until browned.

Remove from oven and place meatballs in casserole dish or small roaster.

sauce:

1 cup brown sugar
2 Tbsp cornstarch
1/2 cup vinegar
juice from can of pineapple chunks (reserve the chunks)

Mix all ingredients in saucepan and heat until boiled and thickened.

Pour over meatballs. Add in pineapple chunks, some chopped onion and chopped peppers.

Cover and bake at 325 deg for 1 hour. Serve with rice and side of veggies.
~~~~~~~~~~~~~

Post your recipe on your blog and play along with us :-) Add your link using MckLinky, and I'll drop by for a visit.