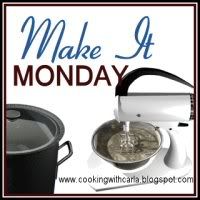 This week's theme is CHOCOLATE :-)

Fry's Fudgey Layer Cake
1 cup Fry's cocoa (any brand will do, I usually buy Fry's)
1 3/4 cup sugar (divided)
2/3 cup water
2 cups flour
1 tsp baking soda
1 tsp salt
3/4 cup butter, softened
3 eggs
2 tsp vanilla

Combine cocoa and 1/2 cup of the sugar in a large saucepan. Gradually stir in water. Cook and stir over medium heat until mixture boils. Cool. Sift together flour, baking soda and salt. Cream butter in large mixing bowl until light. Gradually beat in remaining 1 1/4 cups of sugar. Add eggs, one at a time, beating well after each addition. Stir in cooled chocolate mixture and vanilla. Add dry ingredients to creamed mixture alternately with milk, combining lightly after each addition.
Divide batter between two greased and floured 9-inch round pans. Bake in preheated 350 degree oven for 30-35 minutes. Cool in pans for 10 minutes, then let cool completely before frosting.

~~~~~~~~~~~~~

Post your recipe on your blog and play along with us :-) Add your link using MckLinky, and I'll drop by for a visit.