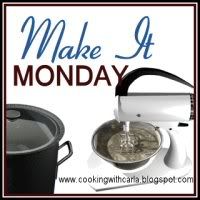 This week's theme is CAKES.

GRAM'S BOILED RAISIN CAKE

Boil the following ingredients for 5 minutes:

2 cups water
1 cup butter
2 cups sugar
2 cups raisins
2 tsp cinnamon
2 tsp cloves
2 tsp allspice

Let cool. Mix in separate bowl:

2 1/2-3 cups flour
3/4 tsp salt
2 tsp baking soda

Add cooled mixture to dry ingredients. Stir by hand. Pour into a greased/floured tube pan and bake for 1 1/2 hours at 300 deg.

I usually cut my cake in half and freeze part of it. It freezes well.

Enjoy :-)


~~~~~~~~~~~~~

Post your recipe on your blog and play along with us :-) Add your link using MckLinky, and I'll drop by for a visit.